Blog
An Insider's Look
At The Summit's Development: Guest Blog
Having grown up in Cincinnati, I can remember what the corner of Red Bank Road and Madison looked like 20 years ago – a heavily industrial corridor consisting of an old drive-in theater and Nutone's faded factory, all rounded out by the Rainbow Car Wash, Rally's and a UDF. When Medpace moved in, it changed the dynamic of this corner substantially. The old Nutone warehouse was stripped and repurposed into a parking garage. Many Cincinnatians would use this as a landmark because of its location on the top of the hill and its bright, multicolored columns that were part of its transformation.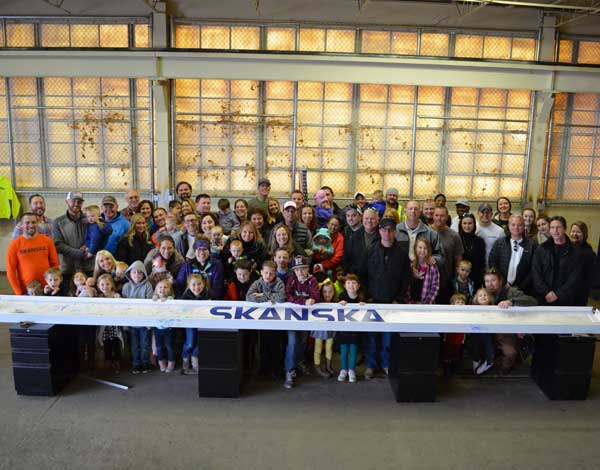 Editor's note: The Summit's construction was a monumental and fascinating process. We knew when it came to sharing insights only an insider could have, we had to talk to Jon Budde, project manager for Skanska, The Summit Hotel's construction company. Jon has degrees from Miami University and University of Cincinnati in construction/development-related fields and has 11 years of construction and real estate experience serving clients including Disney, Peabody Hotels, Mercy Health, the GSA, University of Kentucky and more. Jon lives in Cincinnati with his wife, Ashley, and two children – Henry and Annabelle.
After Medpace established three office buildings and the parking garage, founder Dr. August Troendle and his team turned to Skanska to help build the remaining parts of the property into a destination location. The addition of the Summit, A Dolce Hotel, was an essential part of this plan. The vision for an artful, inspiring hotel that could play host to events and visitors was born.
The construction schedule was aggressive at 22 months. The building has over 270,000 square feet of finished space in addition to the reworked parking garage at over 115,000 square feet. At the peak of construction, there were 250 construction workers on-site each day, and by the end of the project, over 1,100% tradespeople had played a part in the building's transformation.
This development has several complexly designed unique spaces, like an expansively landscaped rooftop terrace on a green roofing system; extensive conference and meeting rooms featuring natural light and built-in technology, and a nine-story open atrium filled with artistic touches. Throw in the fact that this is all on top of an existing structure, with all of the typical challenging field conditions encountered in an adaptive reuse project, and things are bound to get interesting. However, by building on top of the structure, we were able to build something better for the environment by recycling and reusing its concrete. This reduced the amount of material from demolition going to a landfill and reduced the need for producing more concrete, which has a high carbon footprint.
*Demolition begins on the parking structure to form the opening for the nine-story atrium in the tower.
*Hotel structure reaches completion. The colored columns from the Medpace parking garage are still visible on the lower levels.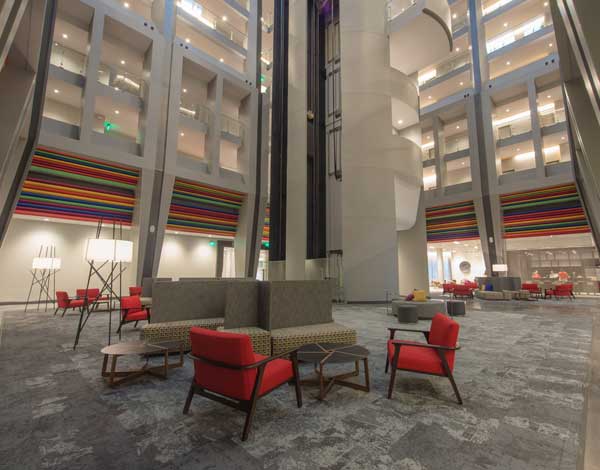 *Completed atrium (left) and Brew & Barrel (right).
The Skanska project team is proud to be part of the redevelopment of this iconic landmark in Madisonville. This area has come a long way over the years, shedding its industrial reputation and transforming into a multiuse development for everyone. I am excited to see how The Summit will help Madisonville continue to grow and thrive.
We are continuing the momentum on this campus with our next major project – completing the Medpace campus with a mixed-use office/retail development that will add more restaurants, bars and outdoor entertainment venues within walking distance of The Summit. I truly believe this area will become known as one of Cincinnati's best destinations, and I, along with everyone at Skanska, am honored to be part of that story.
*Skanska Family Day Topping Out Party – Pictured are the Skanska team, contributing contractors, and Seth Barnhard and Bill Burwig (RBM Development).
Read other posts