Blog
Our Newest Signature Offering
Handcrafted "due by Dolce" Biscotti
A visit to The Summit Hotel is an immersive, sensory experience. With curated art throughout the hotel, inviting nooks in which to unwind, thoughtful nourishment and details that surprise and delight, our newest offering is another delicious way to experience The Summit.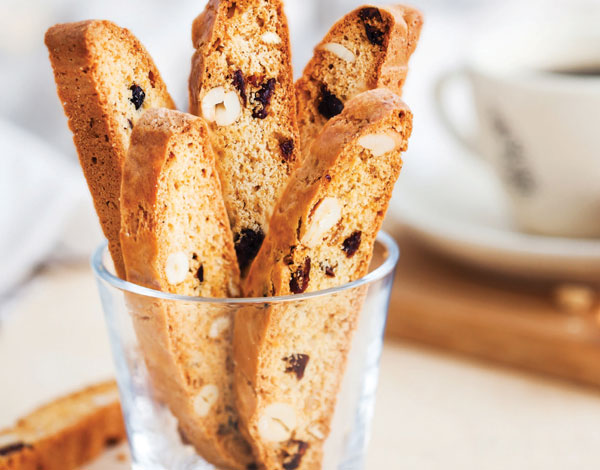 Earlier this year, executive chefs from Dolce hotels across North America and Europe competed to create a biscotti recipe that would ultimately be served in every Dolce hotel. The winner was selected at Waitrose Cookery School in historic King's Cross, London and included former contestants of The Great British Bake Off to coach, mentor and support the finalists.
Chef Aleece Alexander of Dolce Aspen Meadows Resort was crowned the champion for her innovative recipe of pistachio, apricot and cranberry biscotti.
Called "due by Dolce," the name is a nod to the biscotti's Italian roots ("dolce" means "sweet" in Italian), and the twice-baked process ("due" is the Italian word for "two"). The biscotti are always served as a pair, because just one of the delicious treats is never enough.
The Summit Hotel's culinary team creates due by Dolce biscotti from scratch, using fresh, artisanal ingredients and time-honored techniques for biscotti baking. Guests at the hotel are welcomed for their stay with a biscotti gift pack and are able to help themselves to the decadent treats at coffee bars in the hotel.
Visitors to the hotel are also able to indulge in the biscotti experience. The tasty confections are served to meeting attendees at the hotel's Nourishment Hubs™, and can be found alongside dishes in The Overlook Kitchen + Bar, Brew & Barrel and The Market, our contemporary culinary options.
"We're passionate about creating memorable stories for all of our guests. We invite them to stop and savor a moment of enjoyment with a delicious due by Dolce biscotti and a relaxing coffee or cocktail," says Executive Chef Stephen Spyrou.
Curious about due by Dolce? Make a plan to stay with us and try them yourself.
Read other posts