Blog
The New York Times Named Cincinnati
to Its 2018 Travel List. Here Are 5 Things You Must Do in the Queen City.
The New York Times recently named Cincinnati to its list of 10 U.S. cities to visit in 2018. Citing the city's exploding craft brewery scene and affordability for travelers, it's easy to see why the Queen City made the list. There's a lot to do in our fair city. Read on for some of the highlights.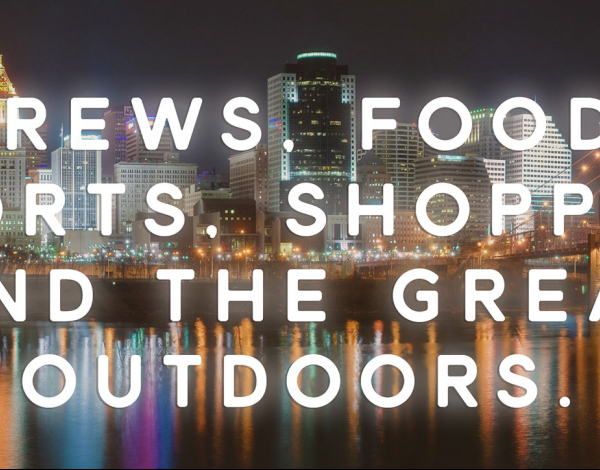 Hit the brewery trail. With nearly 50 craft breweries in the Cincinnati area, there's an IPA, stout, ale or pilsner for everyone. If you're in the mood for a lively atmosphere at one of the bigger breweries, try Rhinegeist or Madtree. Want to sample beers in a historic setting? Try Taft Ale House, housed in a former church built in 1850. Or maybe you want to stick close to home: try Tap & Screw, a cozy brewpub located on the doorstep of The Summit. But this is just the tip of a hoppy iceberg. Several companies offer shuttled beer tours, and you're sure to have fun exploring more breweries. If you prefer to get around by your own power, try a Pedal Wagon downtown. Taking upwards of a dozen pedaling passengers, the Pedal Wagons visit bars, pubs and taverns in the city's Downtown and Over-The-Rhine neighborhoods.
Take in a sports event. Cincinnati is a sports-loving town. You'll find NFL football with the Bengals, MLB with the Reds, hockey with the Cincinnati Cyclones and Division I sports at the University of Cincinnati, Xavier University and Miami University. Want more options? The Florence Freedom is a pro baseball team with the Frontier League East. And we'd be remiss if we didn't mention FC Cincinnati, the new and much-beloved professional soccer team whose games are a fun-filled (and family-friendly) romp of blue and orange smoke and enthusiastic chants.
Eat. We love sports, but we may love food even more. You might choose to dine in one of the hip independent restaurants in architecturally rich Over-The-Rhine. From the upscale hot dogs, fried chicken and tacos of Senate, The Eagle or Bakersfield, to the upscale-yet-approachable dining at The Mercer, Salazar, Abigail Street or Please, you can easily fill your belly and your senses in this neighborhood. Or try one of the delightful spots in our nearby neighborhoods of Hyde Park, Oakley and Mariemont. There's the eclectic, fresh dining found at Maribel's, Dilly Café, The Quarter Bistro, Red Feather and E + 0 Kitchen. Or the try the famous burgers at Zip's Cafe, Arthur's or Terry's Turf Club. Have some of the best steak in the country at The Precinct. Authentic Italian and pizza can be found at Forno Osteria + Bar, Thai at Bangkok Bistro or Chinese at The China Gourmet. And just a quick walk away is always bustling Mazunte, filled with fresh Mexican, or The French Rendezvous, an inviting French boutique where the owner also sells pastries and croissants he makes with butter from France.
Peruse the boutiques. Cincinnati is a shopper's paradise. You can find major retailers and upscale shopping at Kenwood Towne Center and Rookwood Commons. But if you're looking for something a little more local, try browsing the boutiques along the charming squares of Oakley, Hyde Park, Madeira or Mariemont. Highly walkable, these squares also feature sidewalk cafes, bookstores and coffeeshops.
Relax in the great outdoors. Some of the nation's premier urban parks are in Cincinnati. Just minutes from The Summit, you can relax in the tranquility of the forests, hiking trails and pavilions of Ault Park and Alms Park. Both feature sweeping views of Lunken Airport, quiet picnic nooks, and playgrounds. Ault Park also offers acres of landscaped English gardens. If you're looking for something with more energy, try Downtown areas including Washington Park and The Banks, which includes Paul Brown Stadium, Great American Ballpark, the National Underground Freedom Center and Smale Riverfront Park. Washington Park sits at the foot of the beautiful, recently refurbished Music Hall. Interactive water features and playground, grassy lawns and frequent festivals and free events make it a vibrant spot. You can take the Cincinnati Bell Connector a few blocks south to walk to Smale Riverfront Park, an expansive riverfront park featuring even more interactive water play, Carol Ann's Carousel, a giant foot piano and even a rideable flying pig.
What are you waiting for? Book your stylishly sleek room at The Summit, and start planning your trip now.
Read other posts