A Stylish Cincinnati Newcomer
Opening March 2018 At MedPace Madisonville Headquarters
Welcome to The Summit
Located less than ten miles from downtown Cincinnati, The Summit is set to usher in a new era of style and sophistication in the Queen City. The anchor of $124 million mixed-use development on the campus of MedPace, the 239-room hotel will delight guests with a contemporary, Cincinnati-centric art collection; modern Fitness Center with yoga studio; and well-stocked library. Chefs and mixologists will oversee an innovative program highlighted by fresh, seasonal ingredients with a culinary nod to the region's German heritage.
the Summit Has All The Essentials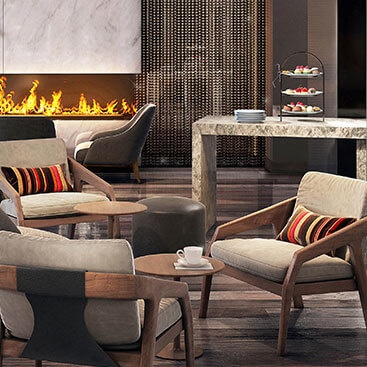 Market Dining
Savor flavorful, farm-fresh cuisine in our urban contemporary restaurant features a beautiful open kitchen, patio dining and private rooms with great views and full A/V services.
Rooftop Garden
Sip a garden-to-glass cocktail at the Terrace Bar, our fourth-floor gathering spot for socializing over drinks and small plates made with fresh, local ingredients.
Art Gallery
Stroll through our restaurants, library, and event spaces to discover the stunning commissioned works of some of Cincinnati's most accomplished artists.
Amping Up Cincinnati's Culinary Cred
Regional goodness served here
You'll never need to slip away to find something delicious and healthy on the menu. We're creating Thoughtful Food For Thoughtful Minds, so you can stay fueled for creativity and never experience a midday crash. Skip the sugar-coated pastry at your morning meeting and savor the energizing options of our trademark Nourishment Hubs. Wind down a busy day with a local small-batch brew or a cocktail made with the freshest ingredients.
On the Menu
Local, seasonal produce
Artisan meats
A mixology and beer program
Gatherings In The Queen City
Set on the MedPace campus, The Summit pairs cutting-edge event spaces with all-out comfort. Featuring 34,500 square feet of indoor and outdoor event space (including a rooftop garden and sprawling terrace with stunning skyline views) and 239 stylish guest rooms, we're with raising the bar with fresh, unforgettable experiences that reflect Dolce's gift for simple sophistication.
Fact Sheet
Facilities Floorplan
Exclusive Offer