Blog
6 Things You Didn't Know
About The Summit Hotel's Opening Week
The Summit, A Dolce Hotel, was easy to find in the media during our first week of opening. With coverage by WLWT, the Cincinnati Enquirer, the Business Courier and Fox 19 among others, there were plenty of opportunities to see the hotel's inspiring spaces and art-centric opening ceremony. But here's a peek at a few things you may have missed.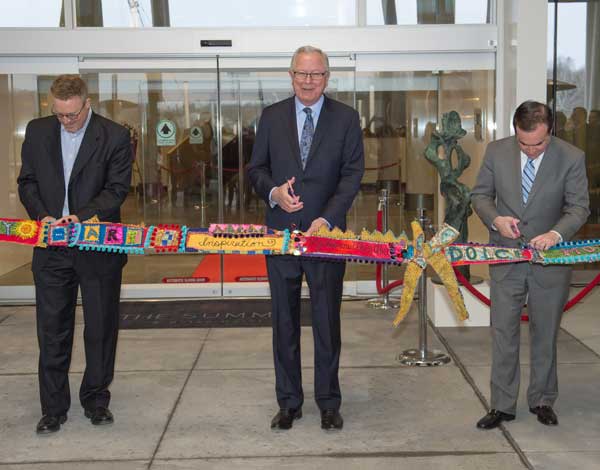 1. "This place is stunning," were the words Cincinnati Mayor John Cranley used to describe what he thought of The Summit, A Dolce Hotel. Mayor Cranley was among the VIPs and guests on hand to officially open the doors of the hotel on April 17.
2. 1N5 hosted their spectacular fundraiser with us on our fifth night of being open. The event chair said it was the best gala they've ever had. Aimed at stopping the stigma and starting the conversation by increasing awareness and education about mental health, Cincinnati 1N5's annual Spring4Life event was attended by more than 400 members of the community dedicated to helping kids get the mental health help they need. Gold medalist Nick Goepper was among those who shared his own struggles with highs and lows.

3. We didn't cut just any old ribbon. As an artful hotel, it was important to us to highlight our commitment to the arts in our opening ceremony. Famed Cincinnati artist and Enquirer Woman of the Year Pam Kravetz designed a gorgeous 16-foot quilted ribbon for us. Featuring meaningful words, explosions of color and rich symbolism, you'll soon find pieces of the ribbon on display at the hotel.

4. Madtree Beer Cheese with Goetta and a Soft Pretzel. Executive Chef Kyle Goebel was featured on Fox 19 on our one-week anniversary, demonstrating this delicious snack that can be found in The Overlook Kitchen + Bar. Featuring Kentucky-sourced cheese and Hawaiian black lava salt, we've tasted it and it's just as crave-worthy as it sounds.

5. The Monumental Staircase looks different every day. Found in the lobby, the Monumental Staircase is an architect-crafted functional sculpture. Soaring two stories high, on opening day its finish appeared to be brass. But as an artisan works to polish it over the next month, it will take on a rich, deep bronze patina, and will anchor the space even more.

6. We served inspiring bites at the opening ceremony. Mocktail mimosas with charred orange. Goetta sliders on house-made biscuits. Bite-size pancakes with sour cream and caviar. Chocolate and whipped cream folded into tiny, light-as-a-feather crepes. We can do the same for your event.
Feeling hungry? Craving a refresh? Want to see our event spaces? We're happy to host you anytime.
Read other posts