Blog
Want to Make the Most
of Your Next Corporate Meeting? Do These Things.
As a corporate meeting planner, you know trying to plan a perfectly-executed event that engages, excites and stays on budget is the Holy Grail. Your job is made even more challenging when your attendees have grown weary of having meetings in dark hotel conference rooms with sub-par food and technology that often doesn't meet their needs, and yet finding meeting space that doesn't disappoint can be difficult.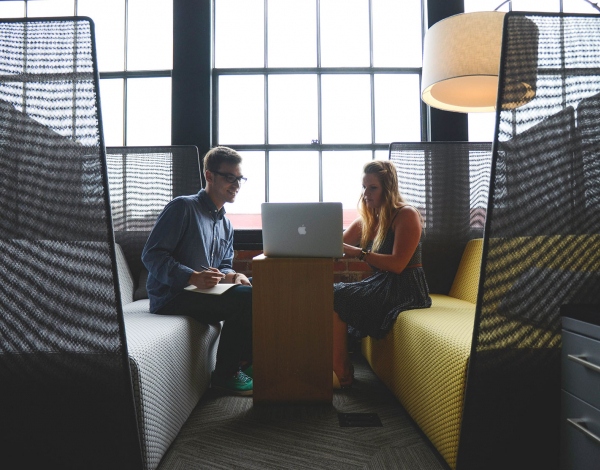 Fortunately, corporate meeting spaces and offerings are evolving. Here are some must-haves for your next event.
Ergonomic chairs. It's so basic, so obvious, and so necessary. With back pain a leading cause of missed work (and suffered by 80 percent of adults at some point in their lives), the difference between a good chair and a bad one is the difference between an enjoyable, engaging day and a pain-filled one. But it's still surprising the lack of thought most venues put into this important detail. If your meeting space can't offer you chairs specifically designed to support and relax, it's time to move on. The Summit Hotel has carefully chosen top-of-the-line ergonomic chairs for every meeting space.
Flexible space. You need your meeting space requirements to flex as the team you're serving demands. Rooms that can be divided or enlarged, space for breakout sessions, enough room to swell the meeting size midday and then shrink it when only the core team is needed. It can be tough to find a venue that hits all these marks. We offer 32,000 square feet of meeting space at The Summit, from intimate to grand and everything in between. And all of it designed to help you personalize the space for exactly what you need.
Natural light. There is a strong relationship between workplace daylight exposure and workers' sleep, activity and quality of life, according to researchers at Northwestern University. And all of us can relate to the bleary-eyed, fuzzy-headed feeling of being in a windowless room all day. The meeting spaces at The Summit Hotel feature floor-to-ceiling windows, all designed to help your team stay alert and engaged throughout a busy session.
Team building activities that actually build a team. An engaged, successfully integrated team is one that can slay any challenge the company puts before it. But building camaraderie and trust takes time and a thoughtful approach. We strive in offering team building activities that tear down barriers, bring people closer together, make them think, make them laugh and carry them back to the workplace as a cohesive unit. What will The Summit do in Cincinnati? Stay tuned for the announcement soon.
Unbeatable technology. Nothing can make your heart sink and your face burn like a projection system that doesn't work, or a roomful of frustrated event attendees who can't access important information digitally. Demand state-of-the-art technology from your meeting space. The Summit offers lightning fast wi-fi, soundproofed meeting space, and unsurpassed audiovisual tech built into every space.
Food that helps brains think. We're getting smarter about the food we eat, and our understanding of how it helps our bodies perform. And yet the standard in the meeting space industry is to put out stale pastries, chips, cookies and perhaps some fruit, and then only at certain points of the day. With our Nourishment Centres, your event attendees will be treated to an all-day array of healthful, protein-filled and fun food options. Our Nourishment Centres rotate in their offerings, including vegan and gluten-free. You'll find fresh fruit and vegetables, nuts, and artisan items baked in-house. You may also find whimsical offerings, like a s'mores bar, or a retro sweet-and-salty bar that brings out the kid in you. It's all about cultivating nourishment program.
All-in pricing. How much time have you spent trying to painstakingly estimate how many gallons of coffee you'll need for your event, or whether to do a sit-down or buffet-style meal, and how much you'll have left over for room rental? Our all-in pricing structure simplifies all of that, saving you time and money. It's one price for everything. Just tell us what you're looking for, and we give you a per person price that includes all you need to create a meeting your team will rave about.
Read other posts