Blog
What You Want to Eat,
Wherever You Want (and Whenever You Want)
It's time to study room service, and ask ourselves if it's everything we want it to be. Couldn't it be so much more?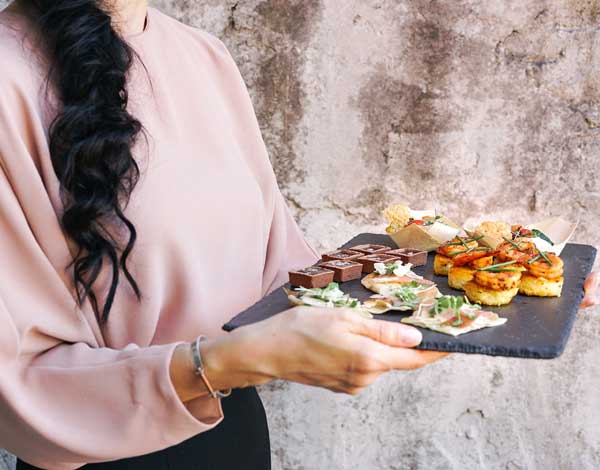 Room service is a tricky thing. It can be wholly enjoyable: a quiet respite where you can tuck into a meal hand-delivered to your own private abode for the ultimate indulgence. Like a steak eaten in your bathrobe, with a nice glass of red wine. Nothing wrong with that.
But what about those times when you look at the clock, and you're feeling peckish, but room service ended at 11 pm? Or you have friends staying in the hotel, and you've discovered a cozy pocket of seating just off the lobby where you'd all love to enjoy snacks and drinks? Or even if you just want a change of scenery? During those times, room service just feels too confining.
That's why The Summit offers Nourishment Anytime, Anywhere. We get that you may want to order something delicious to eat in the middle of the night. Or that you may or may not want to eat it in your guest room. Here are the basic tenets of Nourishment Anytime, Anywhere:
It's delicious. Like every other item served at The Summit, our delivered dishes will be fresh, locally sourced and fresh (did we mention fresh?). The menu will take its inspiration from the chef-created dishes at Brew & Barrel, our sophisticated-coffee-house-by-morning, turned small-plates-beer-and-bourbon in the evening.
It's innovative. You'll find snack items like hummus and dippers, charcuterie and cheese platters, bowls of olives and nuts, yogurt and fruit parfaits and house dehydrated veggies with BBQ spice. When you're hungry for something more, try an ultimate egg sandwich on a brioche bun with bourbon maple bacon, or a pasture egg and brie on a brioche bun. Or a house-made sausage on a pretzel roll with pickled onion and stone ground mustard. Salads, comprised of ingredients like slow roasted root vegetables, citrus herbed greens and grilled chicken are available too.
It's satisfying. You can get something for your sweet tooth, like a chocolate crème served with caramel corn brittle and apple balsamic, or caramelized white chocolate and goat cheese cheesecake. You can even order cold-pressed juices, local canned beers and wine by the carafe.
You really can get it anytime, anywhere. Seriously. The menu is available around the clock, for delivery anywhere at the hotel. Why not enjoy a quiet breakfast sandwich in the Library? Or salad on the Rooftop Terrace? It's our goal to surprise and delight.
Book your stay and find out more here.
Read other posts